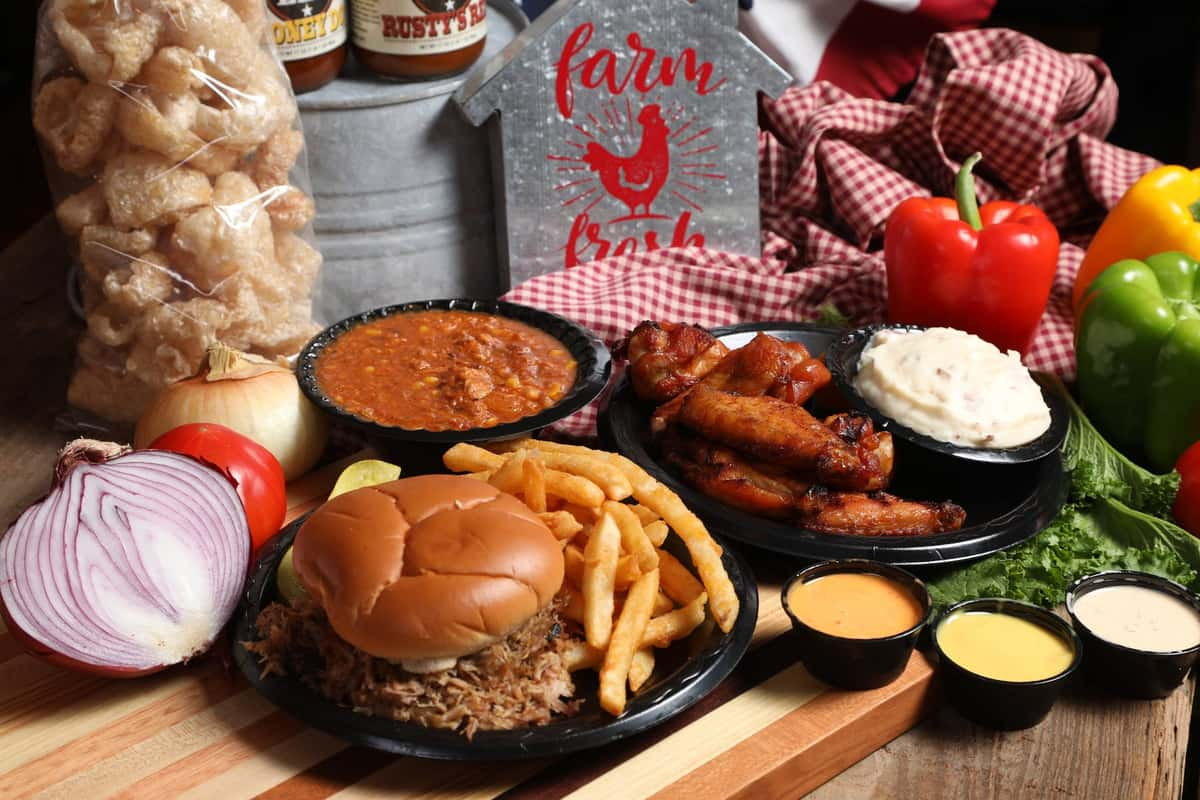 Menu Insert
Become a VIP
Receive updates on special events, new menu items, menu reviews, and more!
Menu Insert
Rusty's Famous Appetizers
Try one of our Rusty Pig Appetizers, so many options to choose from.
Tail Gatin' Bulk Packs
Let us help you with that Big Game, that Big Crowd and those Big Appetites! We can provide anything on our Menu in large quantities. So give us a call and leave the cooking to us!
ITEMS FEEDS PRICE
LB Pork...............................2-3.............10.99
1/2 LB Pork.........................1-2.............$6.99
1/2 Chicken.........................1-2......…...$6.99
8 Pack Kaiser Buns...............................$3.99
Loaf Bread ............................................$3.49
LB Brisket...........................2-3...........$19.99
1/2 LB Chicken Salad.........1-2.............$5.99
LB Chicken Salad...............2-3...........$10.99
LB Cole Slaw......................3-4.............$5.99
LB Fries..........................….5-6............$5.99
LB Mashed Potatoes ...........3-4..…......$5.99
LB Potato Salad...................3-4...….....$5.99
QT Baked Beans..................6-8.....…...$9.99
QT Brunswick Stew.............6-8.....….$11.99
QT Green Beans..................6-8...........$11.99
QT BBQ Sauce.............................….....$7.99
Slab of Ribs..........................4-5......…$27.99
Gal BBQ Sauce...................................$18.99
Gal Baked Beans..................25...........$34.99
Gal Brunswick Stew.............25...........$39.99
Gal Green Beans..................25............$42.99
Half Gallon of Tea...…………….…….$3.99
Gallon of Tea ....................…................$6.99
Sheet Chewy Bread..............18...........$19.99
Apple Crisp......................20-25..........$39.99
Peach Cobbler..................35-40..........$39.99
THE POWER 1 (24 BBQ sliders........$44.99
THE AIR RAID (50 jumbo wings).....$49.99