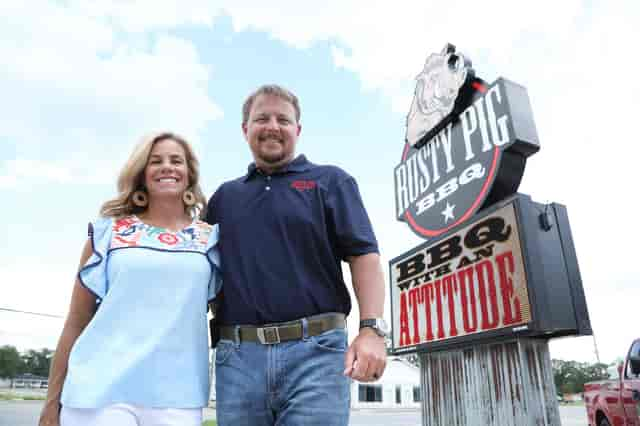 About Us
Our History
Started as a family decision well over ten years ago, Cindy and Neal Anderson acted on their passion to bring the best in barbeque to their friends and family. And that passion has grown into several restaurants…two stationary and one mobile. They wanted to share their love of quality food with their neighbors and expand the brand into local and surrounding areas. And they're not done yet. 

If you are one of the fortunate folks who's discovered Rusty Pig barbecue, you might already know we start preparing and cooking in the wee hours of the morning. We make our own sauce from a closely guarded family recipe. But the most important element of our success is our fresh selections. Our meat is never frozen and everything we prepare is as close to home grown as it gets.
The first Rusty Pig Bar-B-Q restaurant opened in Glennville in October 2009, and was a great success from the first meal served. Our second Rusty Pig opened in Rincon in March of 2011. Now added to the mix of restaurants is their food truck. Our newest addition to serving the community is our mobile walk-up restaurant & kitchen. Rusty's food truck is over 33' long and houses state-of-the-art technology, refrigeration facilities, food prep surfaces, grills and smokers. There isn't much that this food truck can't do compared to our brick and mortar facilities.

"Having the mobile restaurant has allowed us to do several things," stated Neal Anderson, Co-founder and Owner, "we can cater out of it, develop a new Rusty Pig location, build a new fan base, and attend large festivals, all without diminishing the quality of food and service expected by our Rusty Pig customers. The biggest contribution towards the success of Rusty's food truck is our most qualified staff runs it. They know the product and they love to serve our customers".

Ever expanding from a family history of good food, Cindy and Neal are always looking to bring the best ingredients and recipes to their product line. Their line of barbeque sauce is spoon licking good. And that is not all. They continue to watch the trends in technology, too. It's really easy to order Rusty's Favorites, you can: call, order online, or download Rusty's App. You will see just how easy it is to have the best barbeque in the region. It is no wonder that Cindy and Neal Anderson have brought this area a great history of great food.